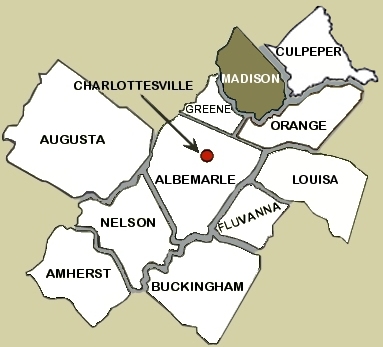 Madison County Va Real Estate
Madison County Virginia is the northernmost area represented by Gayle Harvey Real Estate, Inc. With its spectacular mountain views and rolling farmland, it is one of the favorites for people who desire a rural lifestyle. Madison County is working toward restricting the growth that is present in many of the surrounding counties. Situated on the Route 29 corridor halfway between Charlottesville and Northern Virginia, Madison has seen its real estate prices soar. In an attempt to slow growth and maintain the rural charm of the county, the Madison County Board of Supervisors has restricted land development to no more than four divisions per taxmap parcel every ten years.
The New York Times Travel section recently promoted Madison County. "Rising east of the Blue Ridge Mountains and west of the flat coastal lowlands, the foothills, or northern Piedmont, look very much the way they did when the Civil War armies moved up and down between Washington and Richmond.... Now however, more people are discovering the foothills as a weekend getaway and even a good place to retire. This is a region that seems to have resisted change for change's sake.... A good part of Madison, Rappahanock and Greene Counties is occupied by the Shenandoah National Park, with natural splendors like Old Rag Mountain and White Oak Falls. Here, frustrated city dwellers can hike or ride horseback along wooded trails, fish in clear mountain streams, pick berries, look for arrowheads or just breathe fresh air."
Madison County Virginia has lots to offer. Quaint shops pepper the Main Street as do vineyards and wineries pepper the countryside. There are several very nice restaurants in Madison and if you travel some of the backroads you will see why Madison County, Virginia has become a destination!
Madison County Real Estate Current Trends
Madison County Homes Sold over the Past Year
Madison County Median Sales Price for Homes
Madison County Average Sold Price to List Price for Homes
Madison County Distressed Home Sales over the Last Year
Madison County Days on Market