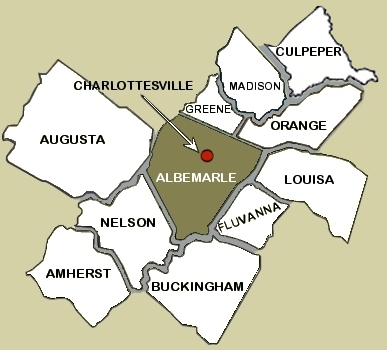 Albemarle County surrounds the city of Charlottesville and is the county that most people think of when they speak of the Charlottesville area. To the east of Albemarle lies Fluvanna and Louisa Counties. To the north you will find Greene, Orange and Madison and to the south are Nelson and Buckingham Counties.
Albemarle County school districts continuously rank high in Virginia's school ratings. There are many cultural, recreational and historic activities happening each week. Boredom is never an issue when living in Albemarle County!
Life Magazine in its June 24, 2005 issue voted Charlottesville and Albemarle County as "the best new place to drink wine." Unlike Napa, the Albemarle vineyards and wineries are mostly miles apart allowing for the enjoyment of the diverse scenery when traveling the Monticello Wine Trail.
Since Charlottesville was ranked as the number one town to live in by Frommer's in 2004, surprisingly, the landscape has changed little. More development and shopping centers are being built in the Route 29 North corridor and pushing some development into Greene County. Southern Albemarle and the Scottsville area are still the slowest growth areas within Albemarle.
The town of Scottsville located next to the James River has a lot to offer. There are several nice restaurants, boutique shops as well as festivals scattered throughout the year. Many Albemarle County residents feel that Scottsville has the best fourth of July celebration of all the local communities.
Speaking of the Fourth of July, Crozet has an excellent celebration as well but is probably known more for its annual Arts & Crafts Festival. Crozet is a designated high-growth area for Albemarle County and here you can find many communities nestled into the rolling hills.

Albemarle County Real Estate Current Trends
Albemarle County Homes Sold over the Past Year
Albemarle County Median Sales Price for Homes
Albemarle County Average Median Home Sales Price for Past Five Years
Albemarle County Average Sold Price to List Price for Homes
Average Days on Market
Albemarle County Distressed Home Sales over the Last Year