Buckingham County, Virginia
Buckingham County according to the 2009 census report had 7,009 households within the county. The following statistics have been calculated using this figure to show the overall impact ot distressed properties within the county. While sales have been slow in Buckingham, tthe county is not suffering as badly as some with distressed real estate.
| | | |
| --- | --- | --- |
| Summary of Incidents of Distressed Property | Short Sales | Lender/REO |
| LISTINGS ACTIVE OR UNDER CONTRACT, LENDER OWNED OR SHORT SALE CURRENTLY IN THE CHARLOTTESVILLE AREA MLS | 4.65 % | 3.49% |
| % OF ALL COUNTY HOUSEHOLDS SOLD AS FORECLOSURE OR SHORT SALE IN 2010 | 0.00% | 0.13% |
| % OF ALL COUNTY HOUSEHOLDS CURRENTLY FOR-SALE OR UNDER CONTRACT | 0.06% | 0.04% |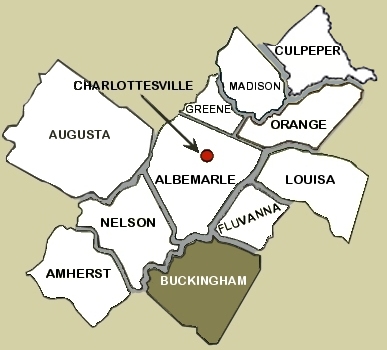 Buckingham County Homes for Sale
Buckingham County is considered the heart of central Virginia. The James River forms the western and northern boundaries between Nelson and Fluvanna Counties and the southern and eastern boundaries are shared with Cumberland, Prince Edward and Appomattox Counties. Buckingham County has many timber operations and is renowed for its slate. There are two towns within Buckingham County, Dillwyn and Buckingham Courthouse. The county has recently updated many of its schools as well as its Courthouse. Buckingham is one of the few places that remain where one can walk down the street and everyone speaks, regardless of whether they know you or not!
Buckingham County Government
Buckingham County Schools
Appomattox-Buckingham State Forests
Buckingham Chamber of Commerce
James River State Park
Yogaville
Historic Village at Lees Wayside

Gayle Harvey Real Estate, Inc.
154 Hansen Rd.
Charlottesville, Va 22911
434.589.5340
1.888.8Va.Land
E-mail us

Licensed to sell real estate in Virginia